As you may know, a wealth of absence management technology is available to help employers transform how they manage employees' leaves and accommodations. This is a topic we're very familiar with here at Leave Genius. In fact, our parent company, Presagia, is a regular contributor to the Disability Management Employer Coalition's (DMEC) @Work Magazine on this topic. DMEC is the most focused industry group for the world of absence management, producing conferences, education, content, and more on best-practices to further how we manage employees' leaves of absence and accommodations.
Presagia's 2019 @Work column, Technology & Absence Management, delved into the technology that can support a stronger, more holistic leave management and accommodation strategy. We're excited to announce that these columns have been refreshed and revamped in Presagia's new whitepaper, Technology & Absence Management: Using Leave & Accommodation Software To Support Your Absence Program.
Download it for free and explore:
The features and benefits of leave and accommodation technology.
How to take an integrated approach to absence management.
Using absence data to identify and address employee health risks.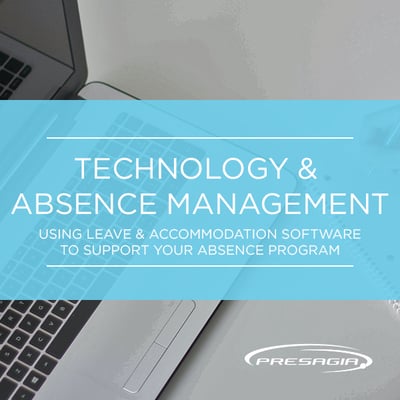 We hope this resource helps you take your absence management program to the next level!